Regular price
Sale price
$31.00 USD
Unit price
per
Sale
Sold out
We are donating a percentage of the Organic Naked Moisturiser profits to Brain Tumour Research - find out why here
Certified COSMOS Organic.

The perfect supplement to the Organic Intensive Skin Recovery Cream, this natural organic moisturiser leaves your skin soft, subtle and helps with a multitude of skin issues. 

What's the difference between the Intensive Skin Recovery Cream and the Organic Naked Moisturiser? Watch this video to find out - Watch Now.
50ML (1.7 FL.OZ) Plant-Based Pot. Made in the UK.
What It Helps With

The moisturisers are suitable for adults and children who may be prone to eczema, psoriasis, dermatitis, acne and have dry skin or oily skin.

Please note - this isn't the 'healing' cream. If you have sore skin please choose the Intensive Skin Recovery Cream to supplement the Organic Moisturiser.

This product contains 100% natural ingredients, and certainly no artificial fragrance or synthetics.

Smell – Lightly nutty, earthy unrefined Organic Shea Butter scent.

Texture – light, mousse like. A little goes a long way.

Helps With - For those prone to eczema, dermatitis, rosacea, acne, dry skin. Can be used on face and body.
Credentials

- Free From Skincare Awards Bronze Medal Winner 2022

- Soil Association COSMOS Organic Certified

- Vegan Society Certified

- Leaping Bunny Approved

- Palm Oil Free

- Paraben Free

- Phthalate Free

- Synthetic Free

- Nanoparticle Free

- Free from Soy & Nuts

- Plastic Free

- Tested and Approved Safe By Oxford Biosciences

- One Tree Planted With Every Order

The list goes on, if you have any questions, please feel free to email info@obvs-skincare.co.uk
Ingredients

Butyrospermum parkii (Shea Butter)*, Carthamus Tinctorius (Safflower) Seed Oil*, Maranta Arundinaceae Root Powder (Arrowroot)*, Zinc Oxide (non-nano), Triticum Vulgare Germ Oil, Tocopherol (Vitamin E), *Organic.


The Shea Butter used in this product is unrefined and certified organic, indicating that it has not undergone any chemical refining processes. As a result, users can benefit from the pure and natural properties inherent in Shea Butter. This Shea Butter is sourced directly from a fairly traded cooperative that adheres to sustainability principles and refrains from using pesticides. Additionally, the cooperative ensures fair wages for its workers.

The Safflower oil used in this formulation is certified organic and cold-pressed. It contains a significant amount of Omega 8, making it highly sought after for treating acne and other skin conditions. The gentle nature of this oil allows for its use in baby care products and children's skincare creams. Safflower oil has a low comedogenic rating, meaning it is lightweight and suitable for all skin types, including sensitive skin. Furthermore, it absorbs quickly into the skin without leaving an oily residue.

Non-nano Zinc Oxide, an ingredient present in this Organic Skin Recovery Cream, provides broad-spectrum protection against both UVA and UVB rays, effectively safeguarding the skin from sun damage. By using this cream, users can shield the treated area from further harm.

Organic Arrowroot Powder is included in this formulation due to its nourishing properties and reputation for detoxification and wound healing. It is commonly used in creams and lotions to soothe skin irritations.

Tocopherol, also known as vitamin E, is derived from vegetable oil. It is easily absorbed by the skin and offers rejuvenating effects for all skin types. Additionally, vitamin E helps preserve the cream, ensuring its longevity and freshness.


Made the same way as the Organic Intensive Skin Recovery cream, the Organic Moisturiser – Naked has slight variations in the percentage of each ingredient, to offer the best possible moisturising properties available.
Directions For Use

Apply a small amount to the skin and rub in gently. If using on the face, only a pea sized amount is required. Always do a patch test first or consult your GP if you have any concerns.

Always do a patch test first or consult your GP if you have any concerns.

Suitable for children and adults.

Store in a cool, dry place - away from direct sunlight.
Special Offer

Save 20% on any Organic Moisturiser when you buy the Intensive Skin Recovery Cream -

Use the code OBVS20 at checkout.
Share
View full details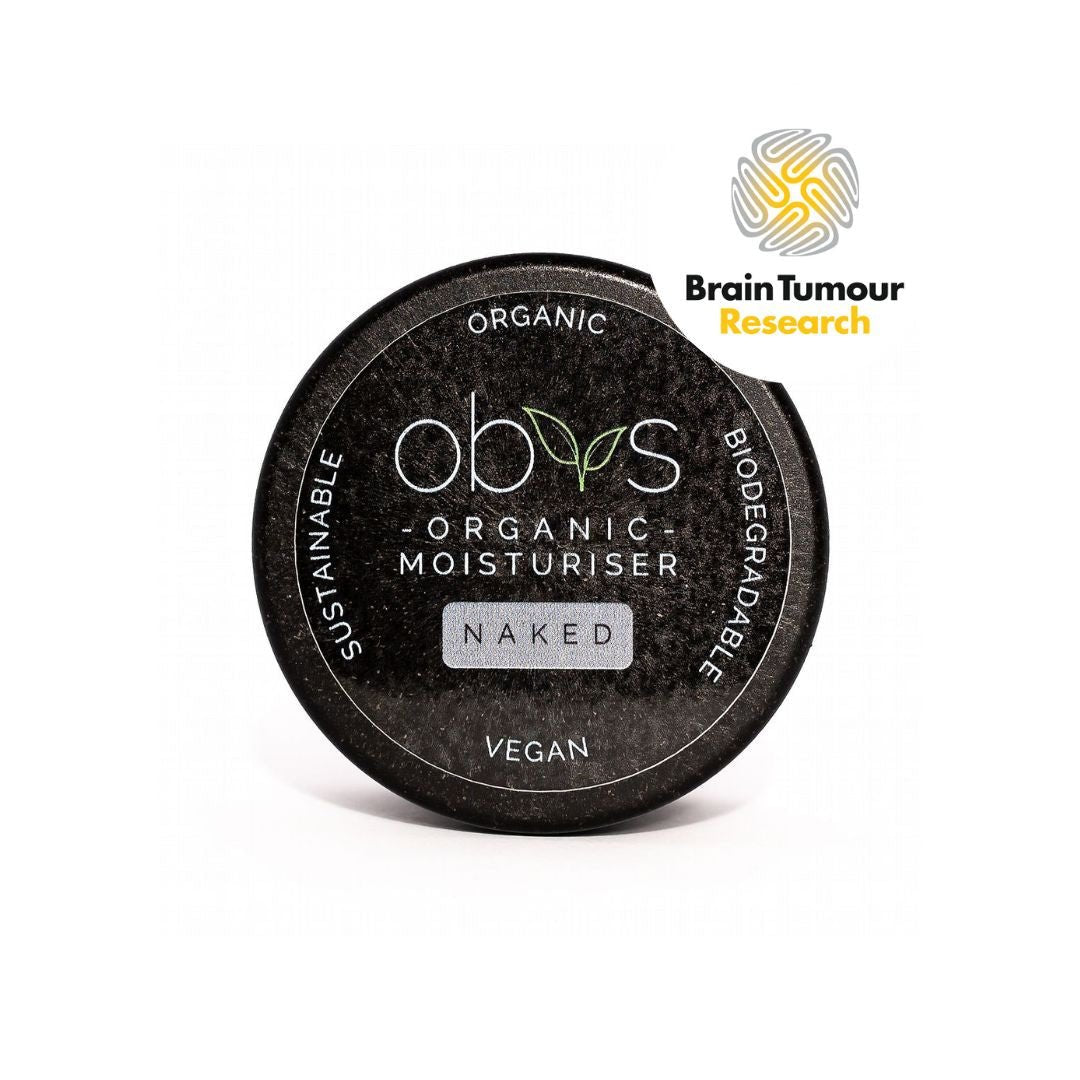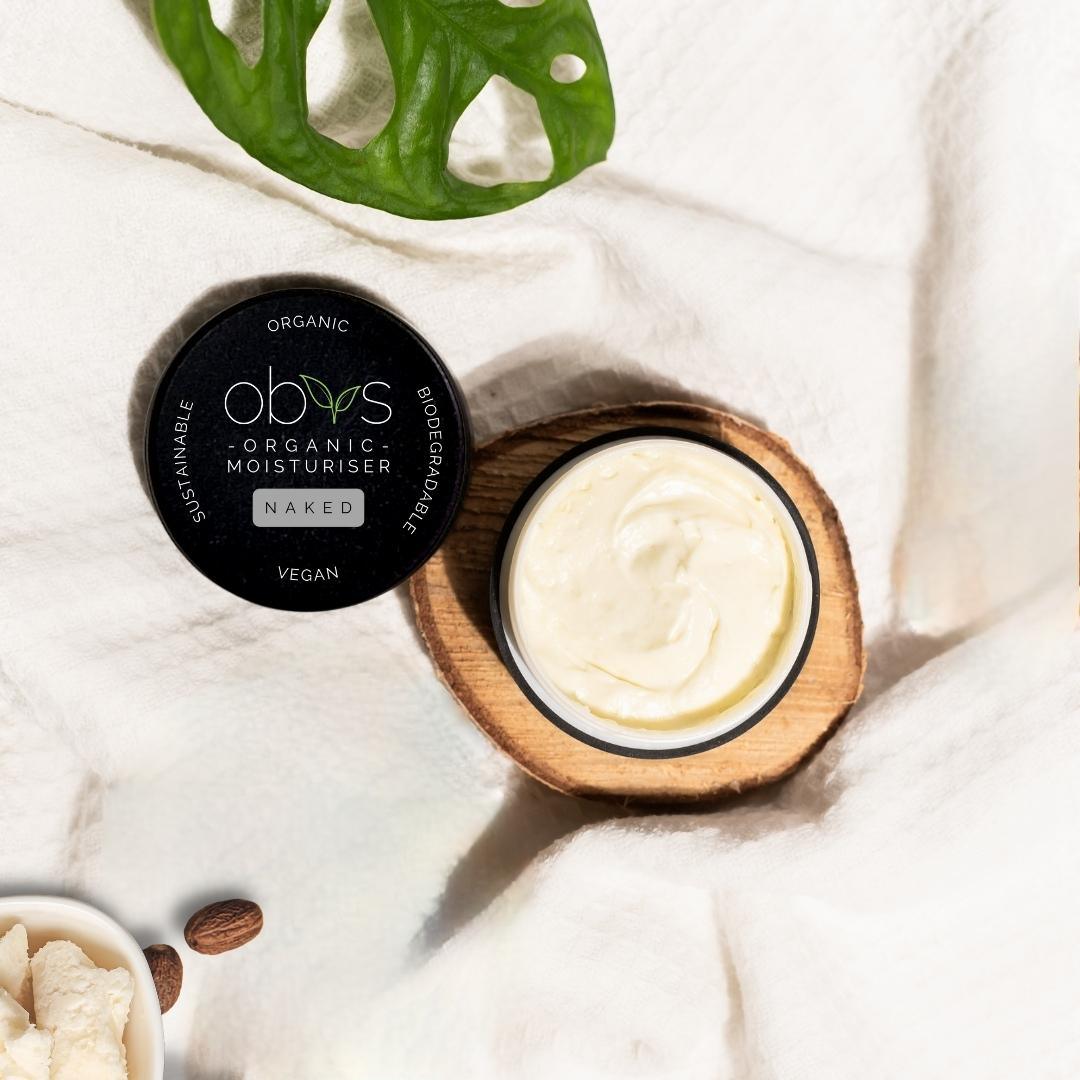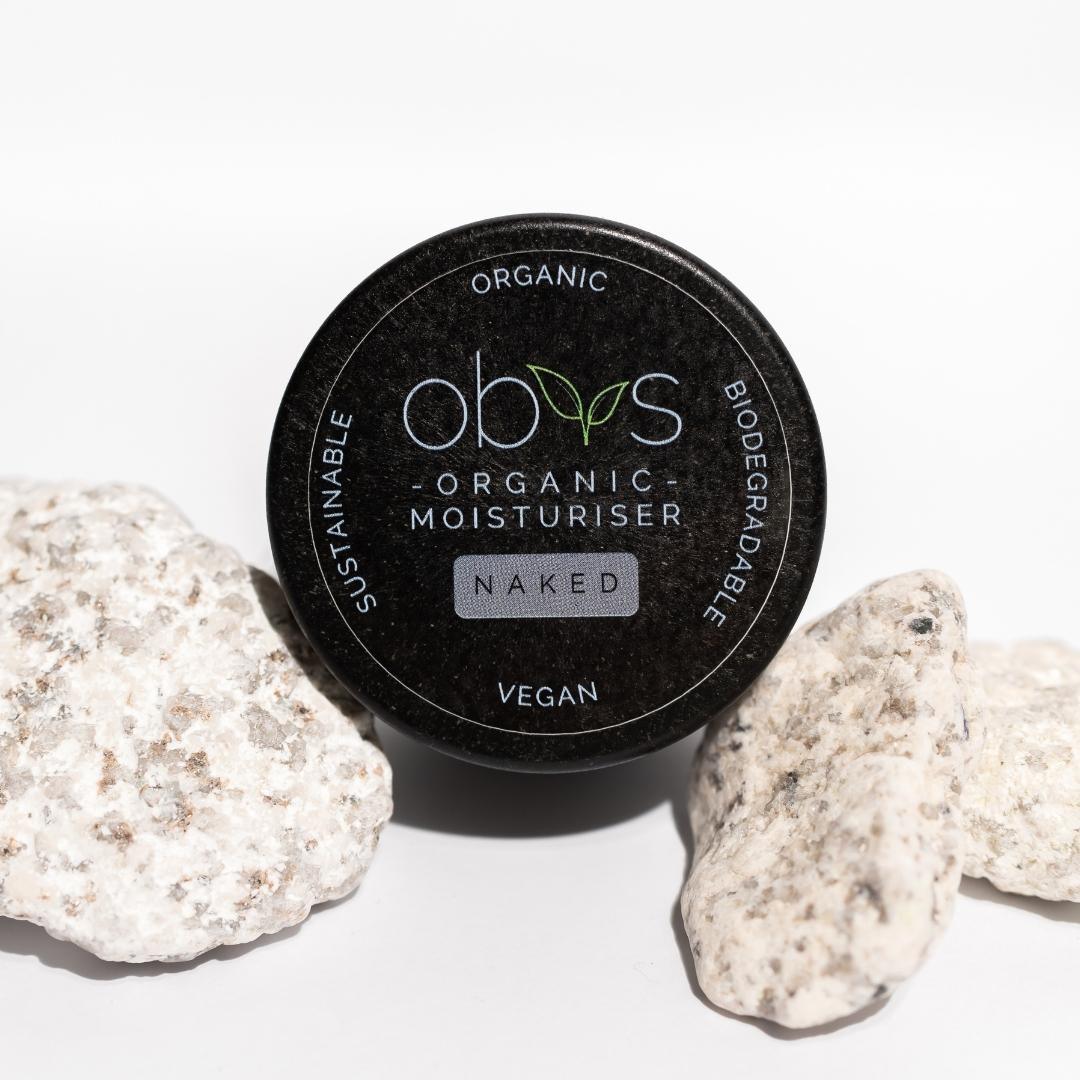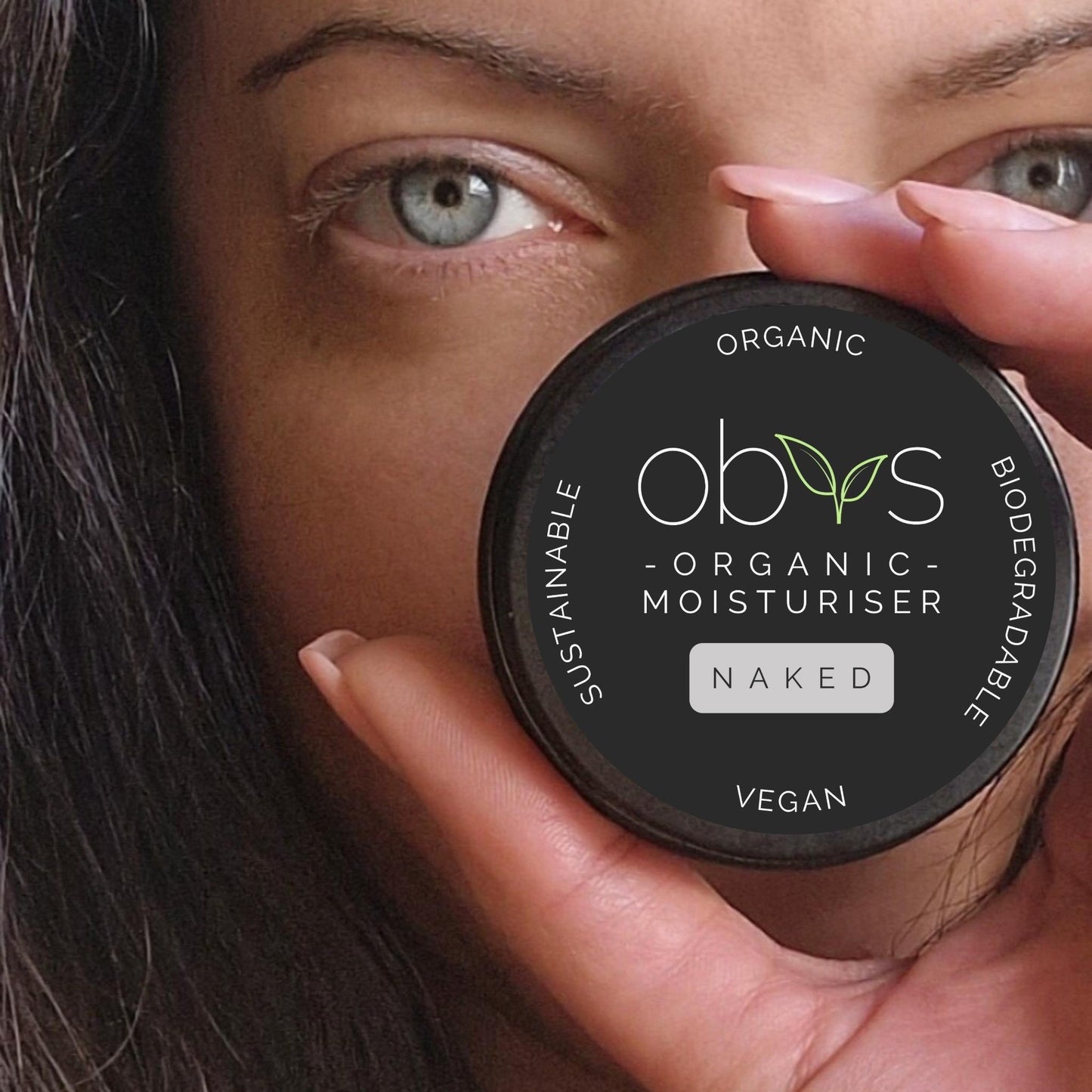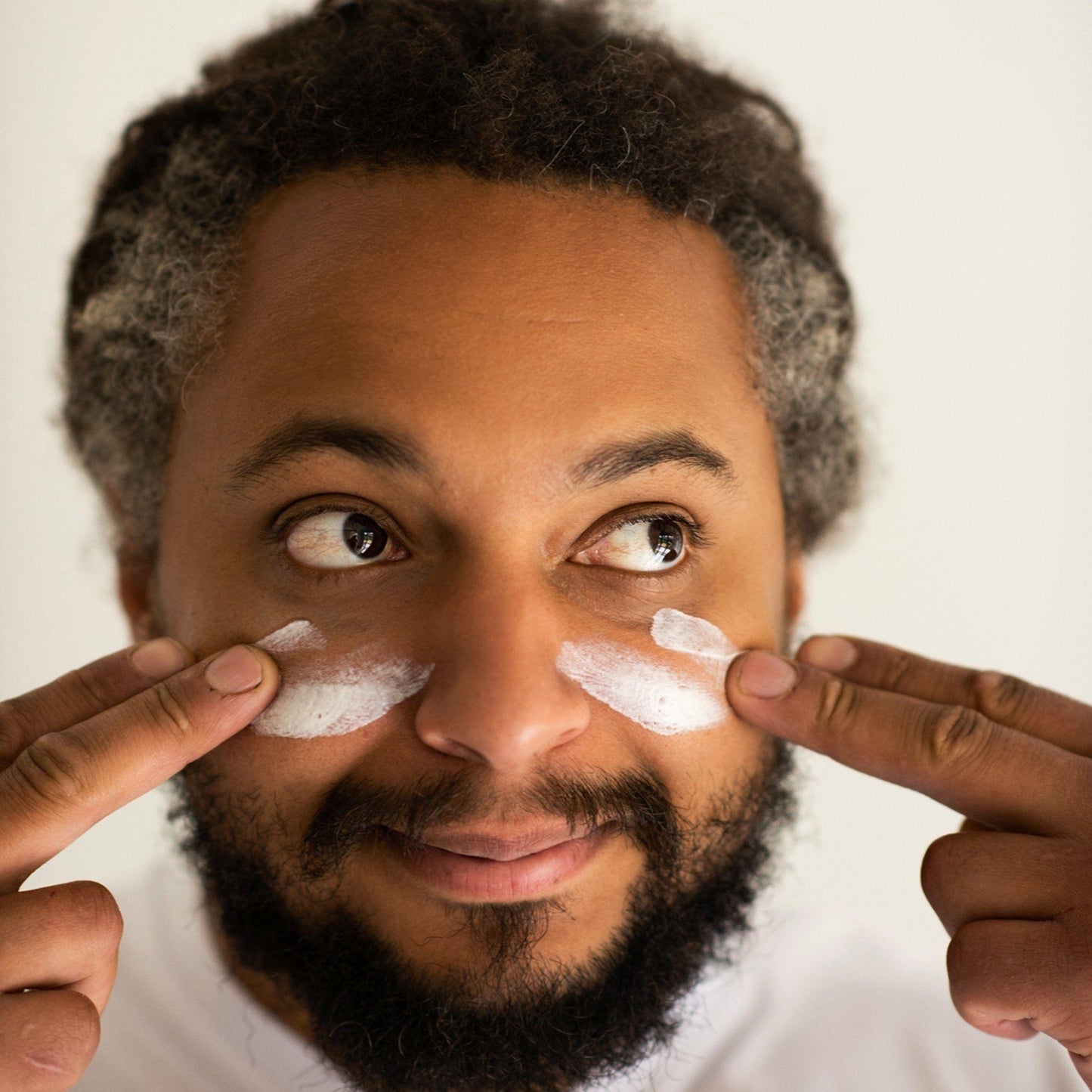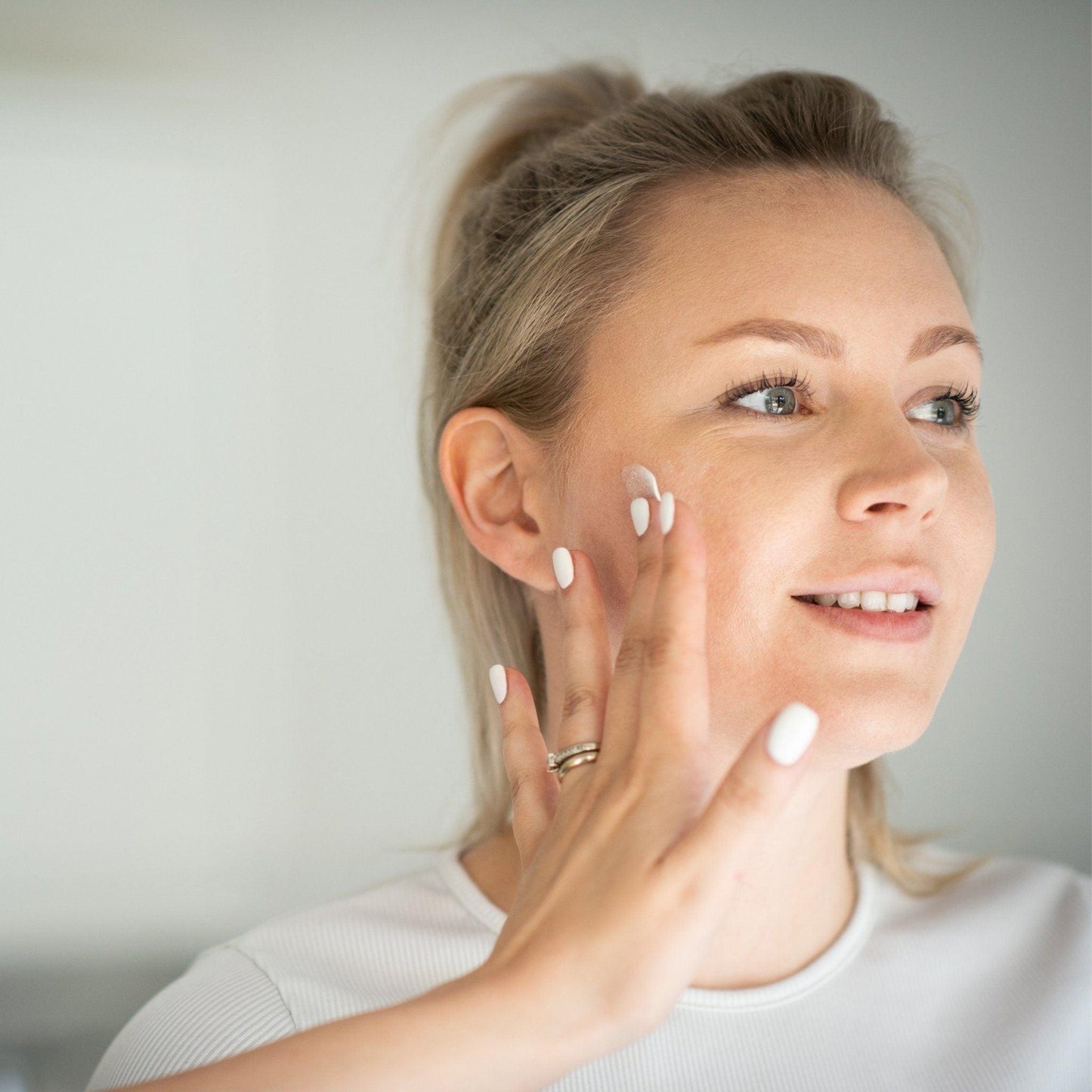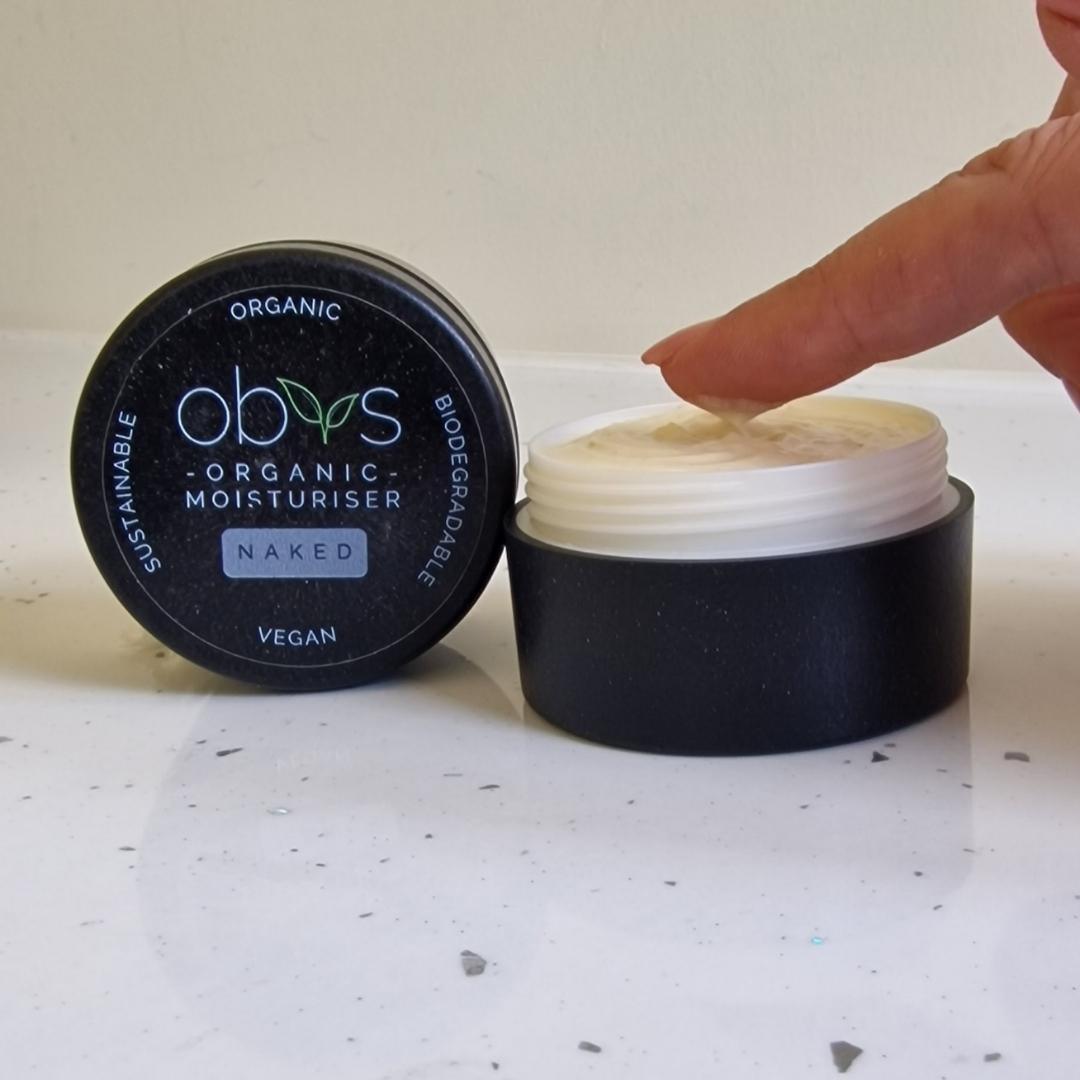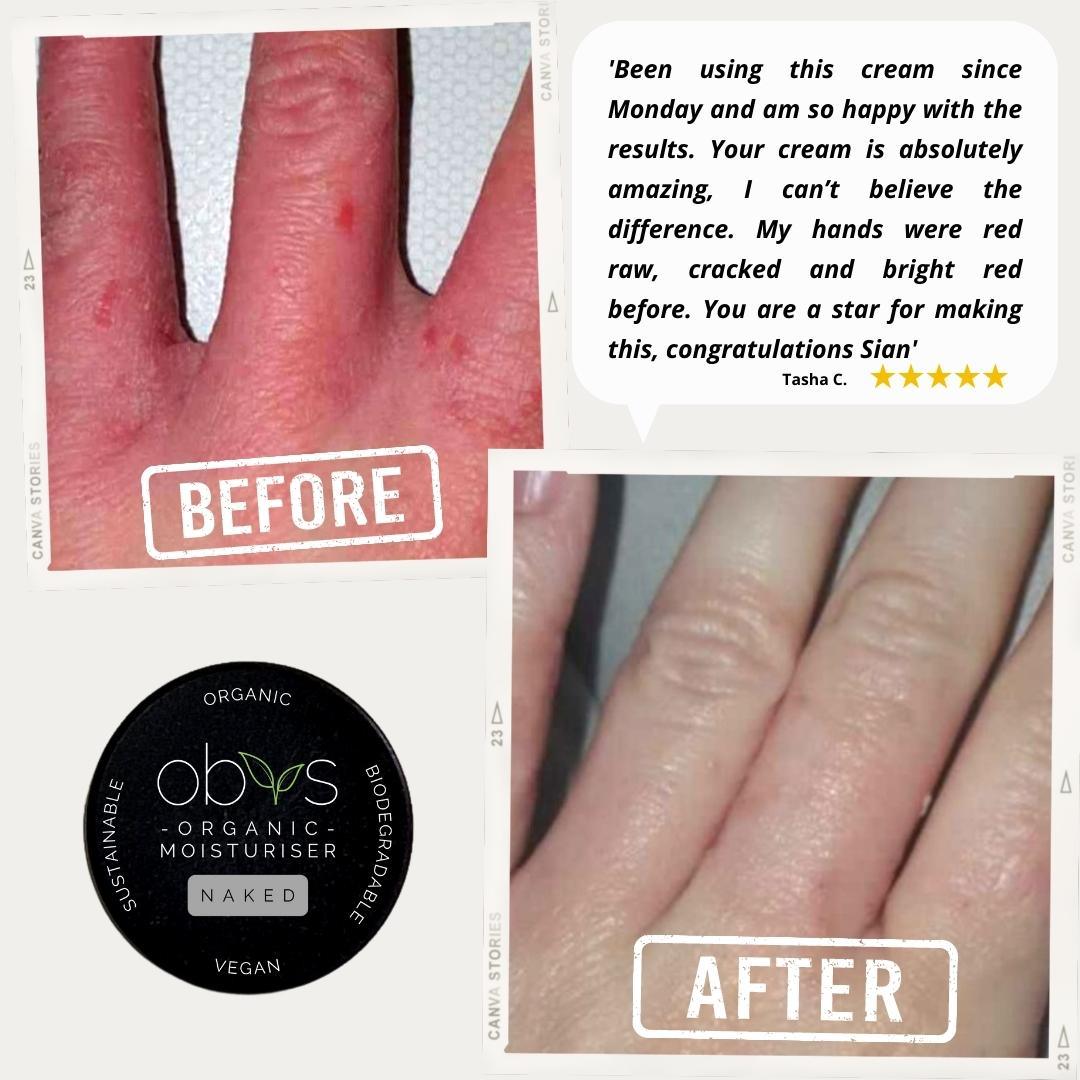 My skin feels nourished
I just love this brand. The Naked Moisturiser is unscented although the shea butter adds it's natural yummy scent. My skin feels nourished and moisturised all day / night. In my opinion, you'd be at a loss to find anything else on the market to compete with this!
Best moisturiser ever
The best moisturiser ever - leaves my skin feeling smooth and hydrated. Far superior to the shop bought product that I used to use before discovering this. I used to struggle with combination skin, but now it's the best it's ever been. Thanks Sian 😊
Thank you for your kind words! I am so happy that our Organic Moisturiser - Naked is helping you to achieve the best skin health possible. I appreciate the time you have taken to write this review Jenna, thank you xxx
Great moisturizer
I've been using the naked moisturizer now for many months and love how soft and nourishing the cream feels on my face. When I enquired about the mandarin moisturizer I was very kindly sent a sample with my order. It smelt delicious and I will be ordering it next time. Im so glad I've found a small, independent, customer friendly business.
Thank you for your positive review of our Organic Moisturiser - Naked! We're glad to hear that you love our product and that it makes your skin feel soft and nourished. We hope you continue to use it and feel its benefits for many months to come. Thank you for being so wonderful! Love Sian x
Amazing!
I absolutely love this moisturiser. The texture is so light and fluffy but it moisturises like a super thick cream; all of this with no nasty ingredients. ❤️
Very light and moisturising.
Thank you for your review. We are glad you like our organic moisturiser - Naked. I appreciate your support. Love Sian x
Hands down the best moisturiser
I was so glad I got to meet Sian at a pop up store in westquay. I purchased my first pot of organic moisturiser from her that day. Now it's the only moisturiser I will use on my face! The creamy mousse texture is lovely and you can feel it sink into your skin rather than sitting on it. I've been using it for almost 10months and now I no longer bother with foundation as it's helped even my skin tone out. So glad I've got a subscription so I never run out!
Thank you for your positive review of our Organic Moisturiser - Naked (Fragrance Free). We're so happy that you've found our product to be the best on the market - we're proud to be able to offer a quality product that is free from harmful fragrances. We hope you continue to enjoy using our product and that it helps you achieve the perfect skin tone. Thanks again for your feedback. Love Sian x